Holiday for
the soul
One day in the "Seehotel das Traunsee"
"After waking up, the first glance goes out of the window overlooking the lake. The first sun rays meet the water and let its surface shimmer. Almost like an invite to jump into the lake and start the day in the most refreshing way. Relaxed and awake the gourmet breakfast with a view over the lake is awaiting. Now it's time to decide on how to spend the day. Either start the day active with a hike on one of the surrounding mountains in the Salzkammergut or rather cycle to Gmunden and discover the lake Traunsee?Or experience true relaxation in our See-Spa? Soothing warmth and the view over the lake let you fully calm. Enjoy a sundowner drink on our private jetty or a glas of wine in the "Greisslerei" while making plans for the evening. A gourmet menu in the "Bootshaus" restaurant, a evening menu in our hotel restaurant "Seestube" or the modern "Wirtshaus Poststube 1327" make the choice a difficult one."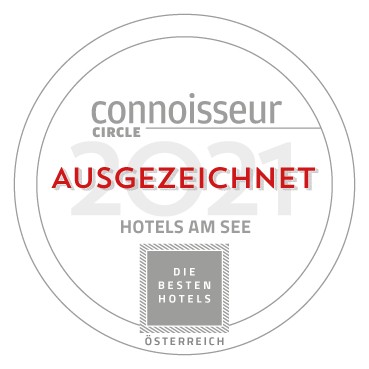 THe most beautiful seasons at the Traunsee
If you had to define a season as the most beautiful on Lake Traunsee, you would fail. This beautiful piece of earth shows itself to be too diverse in the change of the seasons. The first warm rays of sunshine hit the water in spring. The first flats glide silently over the lake and get in the mood for the warm season. Now nothing stands in the way of a summer like in a picture book. The new summer freshness at Lacus Felix, the happy lake. In autumn the golden light shows the lake from its most beautiful side. Fantastic hikes to the peaks around the lake allow us to relax and recharge our batteries in nature before winter sets in. It is time for long walks in the winter landscape and then to enjoy the soothing warmth in the lake sauna.

autumn IMPRESSIONS AT Traunkirchen
On the one hand it is a wine bar, hotel shop and meeting point for friends, on the other hand you find yourself in the middle of a boutique.
A concept store, so to speak!
opening hours
Monday, Tuesday closed
Wednesday, Thursday 11 a.m. to 3 p.m.
Friday, Saturday, Sunday 11 a.m. to 5 p.m.